How the private sector can contribute to malaria control
by Urs Heierli and Christian Lengeler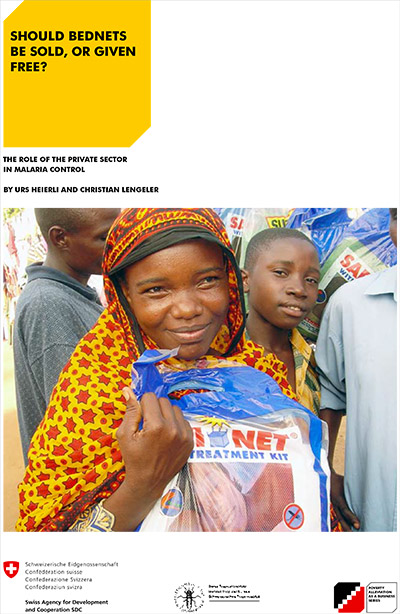 Over the years, a consensus has been built up in Tanzania that ITN dissemination strategies based on a subsidised commercial sector approach are the right answer to the current malaria challenge. It is an ongoing debate, in which another viewpoint, proclaimed by Jeffrey Sachs, calls the delay in the delivery of bednets "one of the shocking crimes of our time".
There is, at present, at least some level of consensus among malaria specialists that an approach is needed which combines both a catch-up and a keep-up strategy for ITNs. Basically, more than one approach is required and the value of complementary distribution mechanisms has been very well shown in Kenya, Tanzania and Malawi.
'Catch-up' strategies: There is a need to increase coverage fast and this may only be possible through free, or highly, subsidised mass distributions. Public distributions linked to measles vaccination campaigns have made a big impact in, for example, Niger, Sierra Leone and Togo (where a 1- or 2-week campaign achieved 50% to 60% coverage in children under five years). Recently a very large distribution campaign spread over three years has been initiated in Ethiopia.
'Keep-up' strategies: Massive free net distributions are time-bound and hence a sustainable and continuous system is also required to reach newly-pregnant women and newly-born children. Further, there is a need to continue getting messages out to the population to ensure further behaviour change. Keep-up strategies can involve clinic distribution of ITNs (such as in Kenya or Malawi) or a voucher scheme (as in Tanzania). This publication tells the fascinating story of bednets dissemination in Tanzania from the early beginnings to the present.
Hardcopies can be ordered (free) from SDC, Swiss Agency for Development and Cooperation,
Email: e-i@deza.admin.ch